Regular price
$349.00 USD
Regular price
Sale price
$349.00 USD
Unit price
per
Sale
Sold out
Empire  Hāloa PP+ Bodyboard
"He'e i ka muku; Ho'i i ka lala. Surf the right; return to the left." The Hāloa model and its graphics are meant to highlight the view of the Kānaka 'Ōiwi, the Hawaiian People. By drawing inspiration from the 'āina, we are able to express the complexities of human nature through songs, poetry, and spirituality. When we focus on symbolic representation, our connection to nature is amplified in our day to day actions. While my genealogical story is embedded within the visual aesthetics of the board, the engineering concept lacks no steps and is designed to hold your rail on big barreling waves, maintain speed and control on small waves, while remaining ultra responsive regardless of the wave riders ability. Begin your journey with the Hāloa model and let your na'au guide you to the maximum stoke. - Davin Alexander
Features:
KINETIC CORE (EPP 1.9lb)
SURLYN PP
NXLPE WAVECUSHION Deck Material 
FULL POI POUNDER CONTOURS
HALOA IWA BIRDS SLICK PRINT
REACT MESH ON SLICK
1X CFT

- HIGH PERFORMANCE STRINGER (40", 41" & 42") 

HAND SANDED HIP GROOVES
IXLPP PRO NOSE AND TAIL BUMPERS
BAT TAIL
What do all these features mean? Read below!
Kinetic PP Core (whats inside)- Constructed from premium grade 1.9lb density Arpro Polypropylene resins, Kinetic Core™ delivers amazing projection and response as a result of high pressure cell-fusion created during the blank manufacturing process. Kinetic Core is a warm water core available in various reinforcement configurations, each tuned-in for specific wave conditions. 
NXLPE WAVECUSHION (Deck Material) - 8lb non-crosslink polyethylene outer skins. The premier skin for high performance bodyboarding.
SURLYN® Slick Bottom - Surlyn is a unique, rubber like combination of ethylene resins and other copolymers invented and manufactured by the chemical geniuses at DuPont. Unlike rigid plastics, Surlyn has amazing flexural stiffness that allows a board to conform and contort to the curve of the wave when controlled by applied pressure from the rider. When the torque is released, the dynamic memory properties of the Surlyn deliver instant recoil, projecting the board onto the next section. Surlyn is so strong that it is used as the cover for golf balls due to its unique abilities to resist cutting and abrasions from golf club impact. Surlyn is the slick of choice for high end bodyboards.
REACT MESH - Diamond shaped mesh weave fused between the boards core and slick bottom skin for enhanced stiffness and recoil.
CFT Stringers- High-grade filament wound composite-fibre tubes placed inside the core of the board for increased board strength and spring-like recoil.
Bat Tail -The protruding bulb increases the boards planning surface at the tail area for down the line speed with wings that lock the tail in throughout the turn. Machine rounded for rider comfort. Bat Tails are looser which provides you less control, but makes it easier to do 360 spinners.
Board Construction - Buzz-Tech process hot air lamination system thermo-fuses the outer skins to the core with calibrated pre and post-set rocker tension for optimum board recoil and projection. CAD designed templates precision cut with CNC shaping machines allow for superior accuracy and consistency. Skilled craftsmen sand, trim, rail and roll each and every board for a high quality finish.
Manufactured in Indonesia at Broady Indonesia, home of the best shapers in the world and the leader of Bodyboard Quality and Technology.
41.75"
Nose - 12 1/2"
Width - 21 3/4"
Distance From Nose - 18 3/8"
Tail - 18 3/8"
Finished Thickness - 56mm

42.5"
Nose - 12 3/4"
Width - 22 1/8"
Distance From Nose - 18 3/4"
Tail - 18 3/4"
Finished Thickness - 57mm

43.5"
Nose- 13"
Width - 22 5/8"
Distance From Nose - 19 1/8"
Tail - 19 1/8"
Finished Thickness - 57mm

Tolerance +/- 1/8"
Thickness tolerance +/- 1mm
Care Instructions

*Like sunburnt skin, foam boards blister and bubble when left exposed and unprotected in the sun. Keep your board covered in a cool shady place when not being ridden and avoid a "baking" car on any hot, sunny day.

*Rinse your board off with cool, fresh water after every use to avoid salt water corrosion.

*Don't skim or sand slide on your board unless it's a skim board.

*(If applies) Plug your board in the recommended location. We mark with a sticker where our stringers are while in the packaging so be sure to plug it about an inch from that. We are happy to pre-plug your new board, just ask us to!
View full details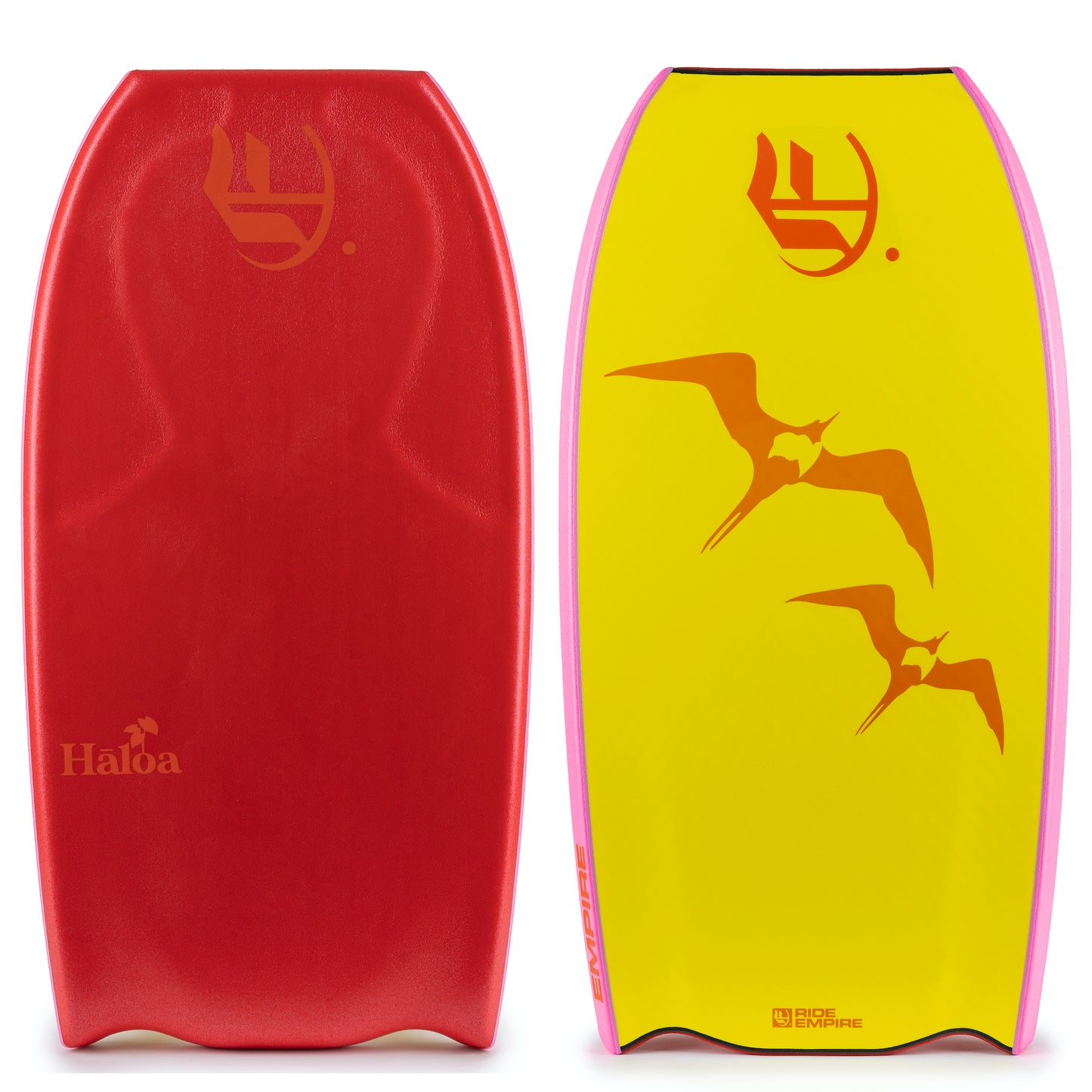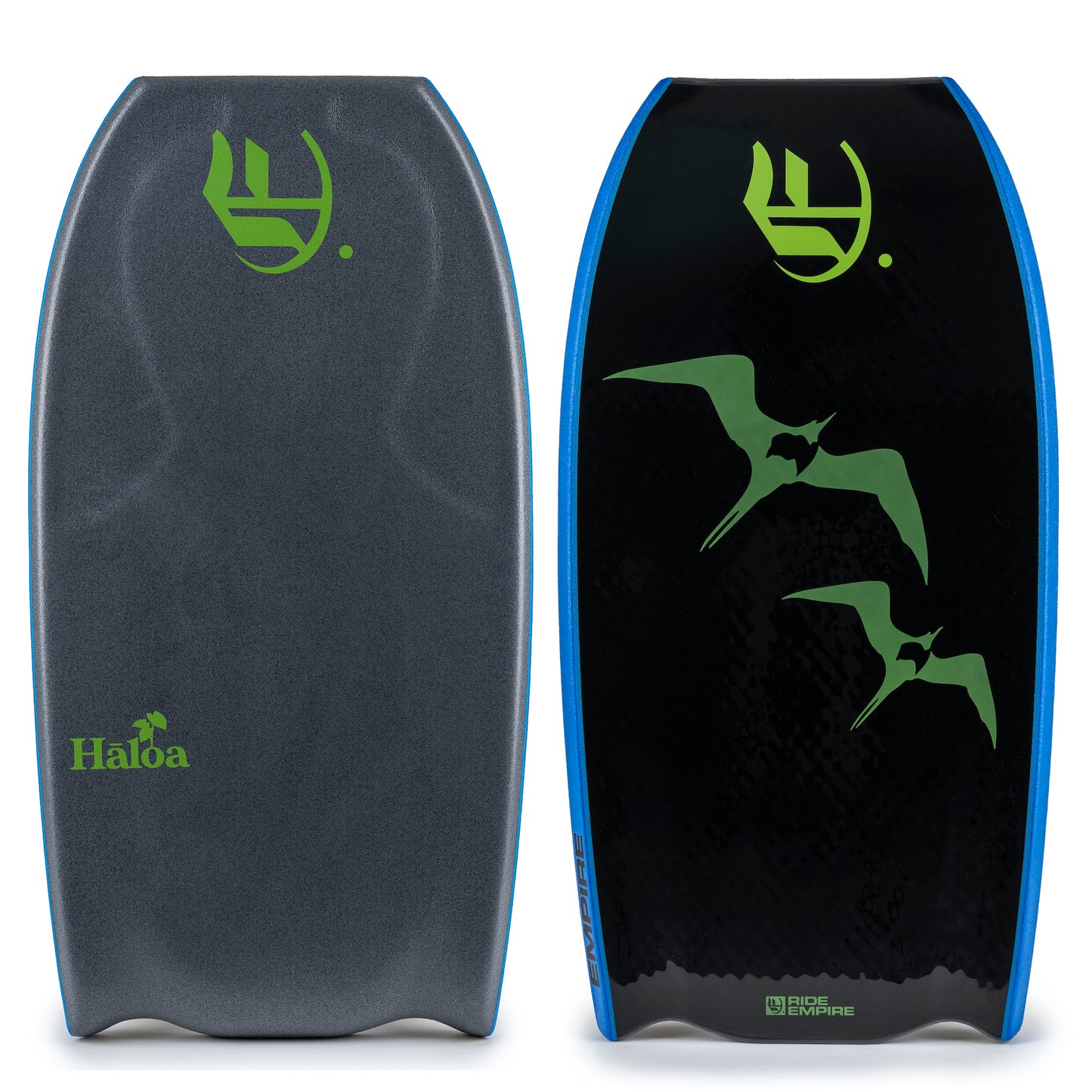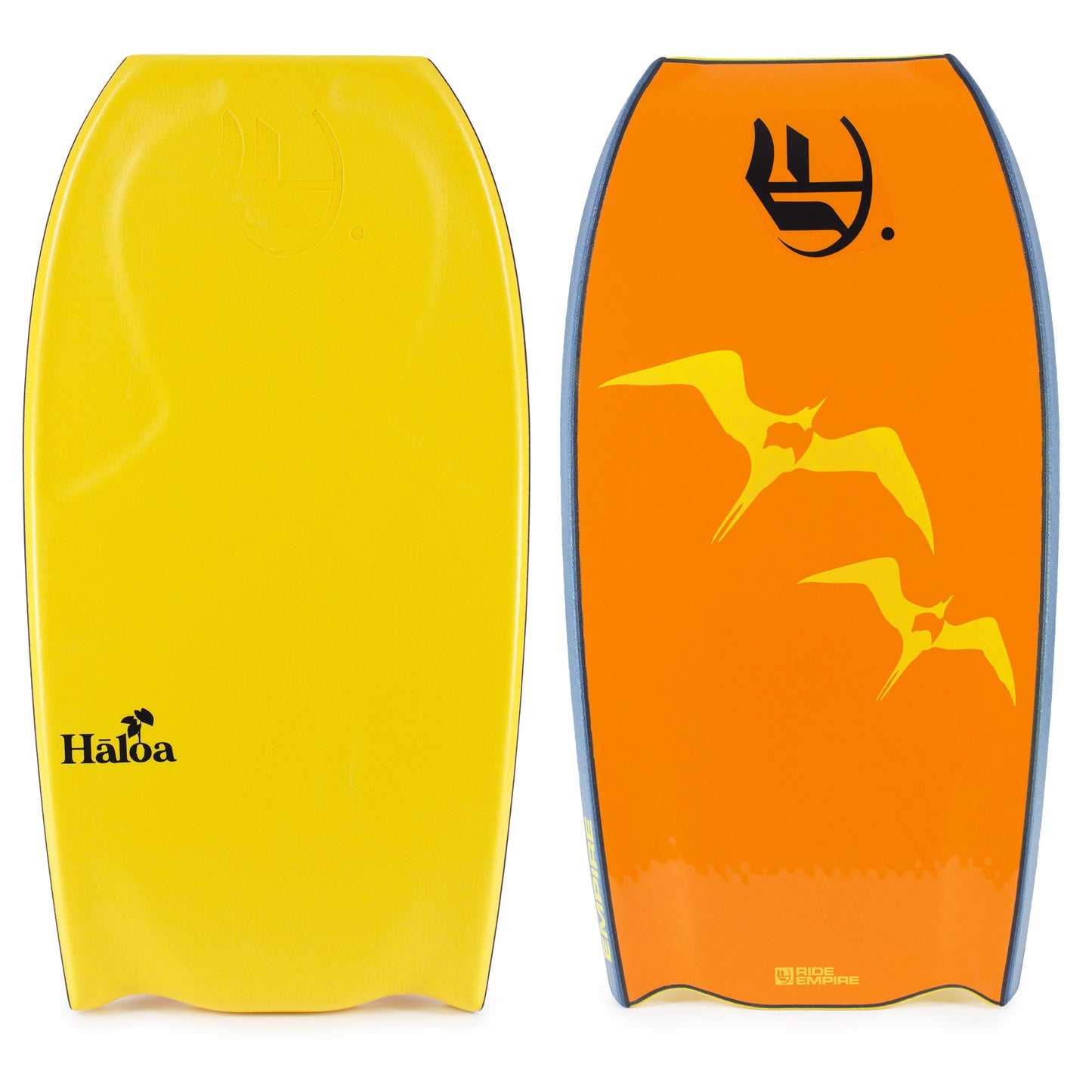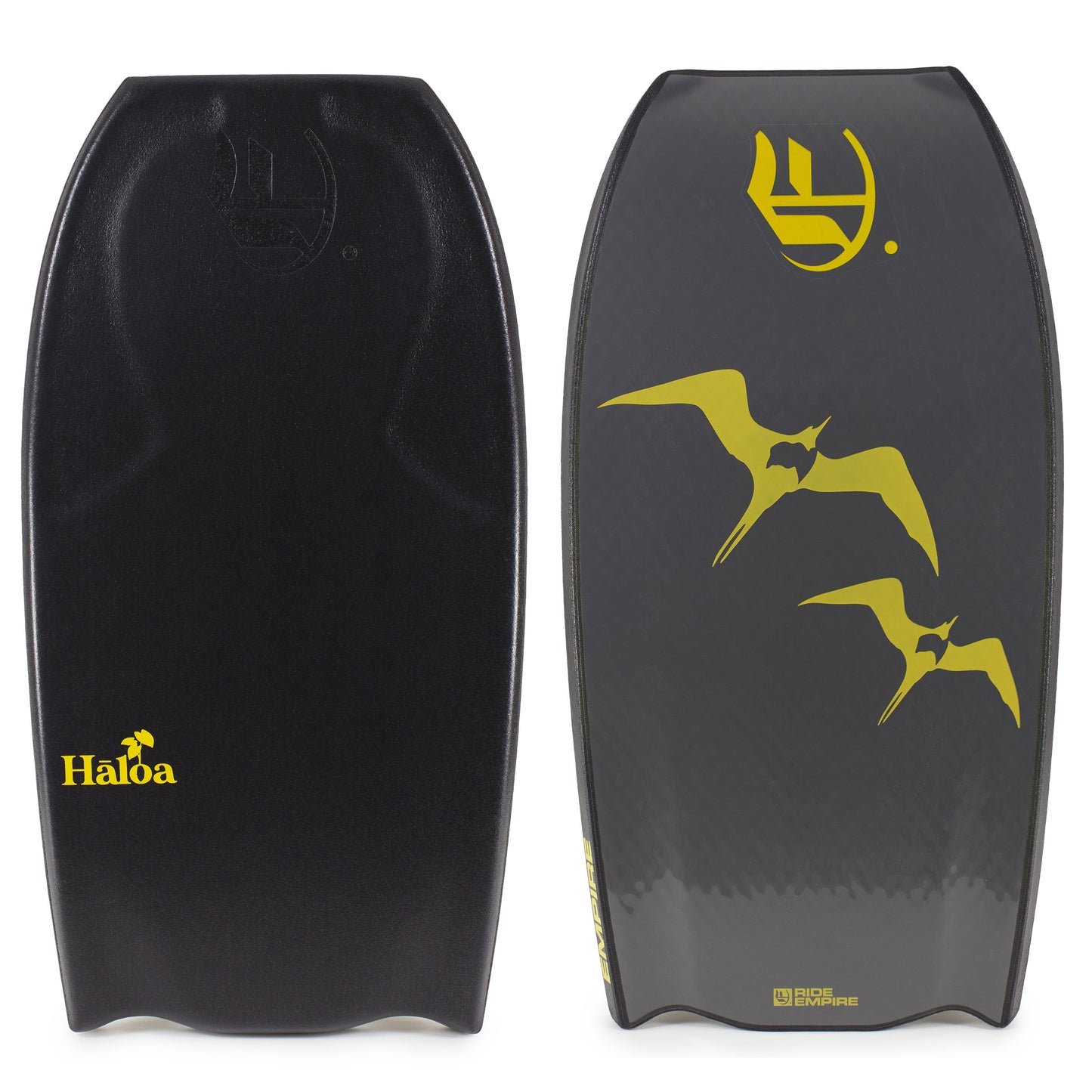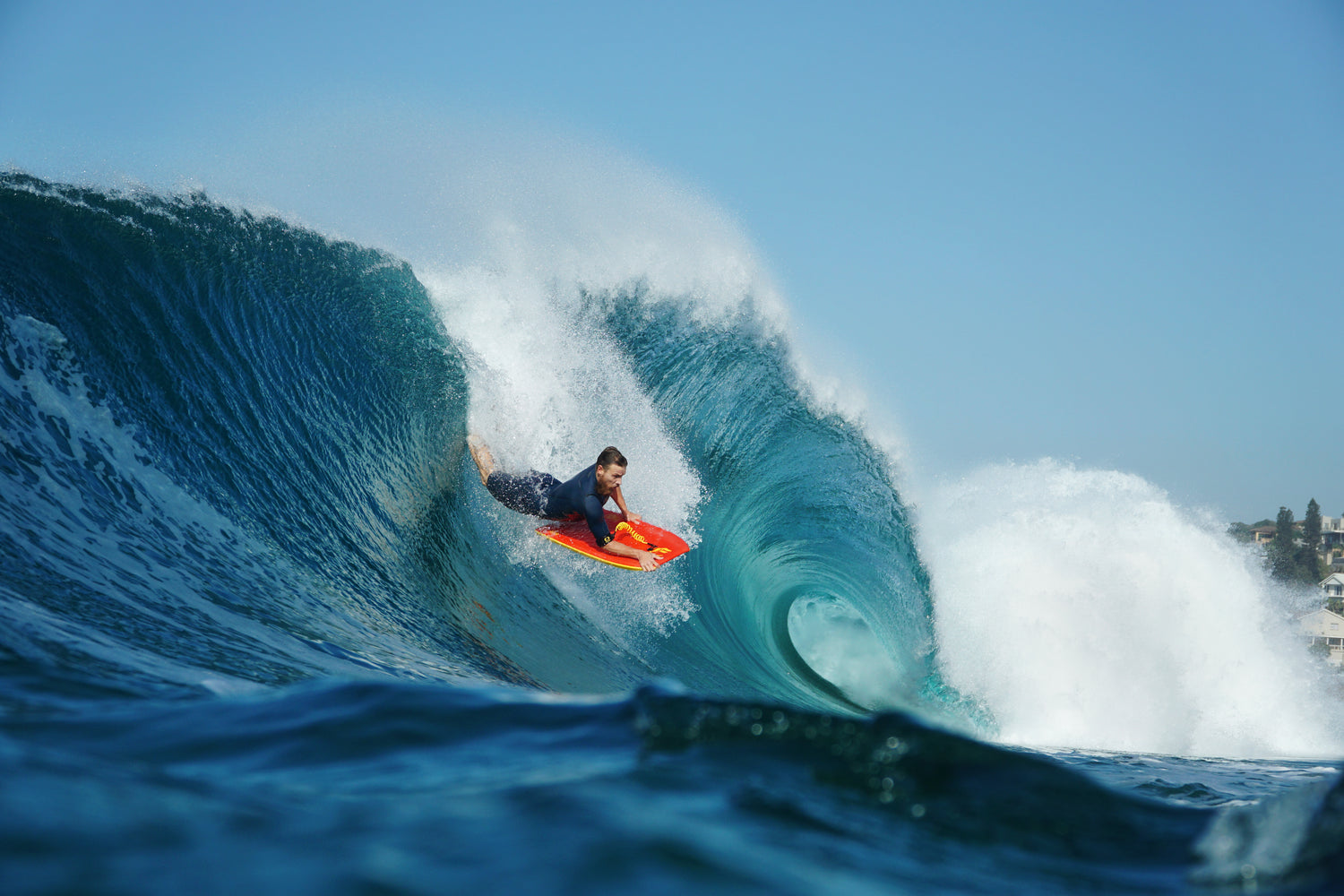 Ohana means family
Thank you for shopping Empire, it means the world to us. We are a big Ohana and would love to connect with our riders. Thanks to Instagram and local beaches it's easy. Please reach out to us via instagram @empireboards or if you see anyone riding an Empire board be sure to say whats up!
Free Shipping

On ALL orders $250+ within the USA. Yep, that includes Hawaii, Puerto Rico and even Alaska if you dare. Sorry, no rush shipping is free. This is all standard shipping but its pretty quick these days. Check our shipping page for your location wait time.

Shipping Policy

Hassle-Free Exchanges

30 Day Refund Policy- To be eligible for a return, your item must be unused and in the same condition that you received it. It must also be in the original packaging.

Refund Policy